Let's take your vertical to the next level with the training tools and instruction you need to increase your vertical jump! More Details >
Want all the instructional content, walkthroughs and drills to become an elite player? Get Shot Science All-Access. More Details >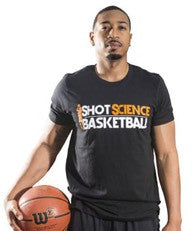 Get the latest Shot Science apparel and training gear from our online store. Are you #TeamShotScience? More Details >
News and Updates
One of the most common questions we get from players and coaches is how do...
Do you need a skills development coach to help you grow your game? How about...
There is no better way to celebrate the 125th birthday of the game that we...
Team Shot Science
Shot Science is basketball for your brain and we want to make you the most educated player on the court. Utilizing our extensive expertise in skill development, athletic training, and game comprehension, we want to take the guesswork out of your training and show you how to become your own best coach. We're here to help you lay the foundation, but it's up to you to take it to the next level!